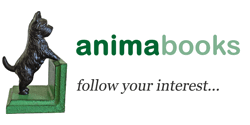 Better Together
how the animals we love can inspire our creativity and transform our shared lives
Christine King
Published by Anima Books, 2023
Printing & Distribution: Kindle Direct Publishing
(an Amazon company)
PRINT editions
ISBN: 979-8-8669-5805-4 (hardcover)
ISBN: 979-8-8669-5842-9 (paperback)
5.5 x 8.5 in. (140 x 216 mm), 100 pages
Kindle eBOOK edition
Kindle and other supported formats
22,176 words, inclusive
EPUB edition (lulu.com)
ISBN: 978-1-4466-6144-4
22,176 words, inclusive
Categories:
1. Self-help | Personal Transformation
2. Religion & Spirituality | New Thought
3. Pets & Animal Care
In her wonderful new book, veterinarian Dr Christine King explains, with stories from her own life, how the animals we love can inspire our creativity and thereby transform our shared lives.
The key is this:
"Loving them, and being loved in return, makes us feel good — and that changes everything…"
You'll learn how in this very personal look back at her friendship with her own beloved dog, Miss Lilly, as Dr King shares her wit and wisdom with the rest of us.
Those who struggle with self-worth, anxiety, depression, or any such feelings will appreciate the honest discussion of her own struggles, which included repeated thoughts of suicide, and how she found her way with the help of her "furry soul friend."
For all that, this is a joyful book, filled with love and curiosity, warmth and humor; and it is a guidebook for creating the life you want, aided and abetted by the animals you love.
The final chapter, Better in Return, describes how our animals' lives are also made better when we are happy and tapped into our own creative genius.
About the author
Christine King is a holistic equine veterinarian who currently lives in southern Victoria (Australia). Her interests include the medical sciences (veterinary and human), complementary and alternative medicine, music, organic gardening, sustainable agriculture, nutrition, communication, spirituality, and the bonds we share with our animals. Better Together is her tenth book.
"I wrote this book for animal lovers everywhere. Part memoir, part instruction manual, it's the book I wish I'd read 20 years ago!"
HARDCOVER (not yet available in Australia)
USD: $15.95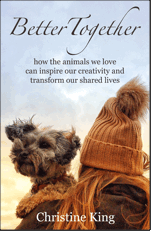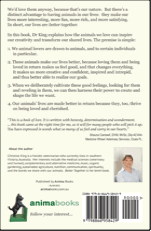 Testimonials
This is a book of love. It is written with honesty, determination and wonderment. It is about love, expresses love, explores love, shares love, and gives a glimmer of insight to the meaning of love from the perspective of the other side of the veil. If there is a veil.
And... this book came at the right time for me.... as it will for many people who will pick it up. You have expressed in words what so many of us feel and carry in our hearts.
The end came too quickly and sharply. Until I read the epilogue which softened my perspective and carried me away into my own Pollyanna world. 
OMG "I love my family and friends. I love my dog more". 🤣 You said it out loud!!
Shauna Cantwell, DVM, MVSc, DipACVAA
Medicine Wheel Veterinary Services, Ocala FL
EPUB eBOOK (lulu.com) * for e-readers that don't support Kindle files
USD: $3.50
Also available on Apple Books, Barmes & Noble Nook, Kobo Bookstore, and many other online bookstores.