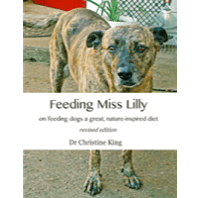 Foreword
The Splendid Miss Tiger Lilly — 'Miss Lilly' to her friends — was my own beloved mutt, and this book is about how I fed her, and the reasons behind my decisions. Miss Lilly died naturally in the spring of 2017, somewhere between 16 and 17 years of age. She was a foundling, so I don't know her exact age. I was told she was about 3 years old when I adopted her from an animal shelter, but I don't think she was quite that old. If she had been, then she was coming up on 18 years of age when she died.
I first published Feeding Miss Lilly in 2014, when she was in her early 'teens. I knew I'd later want to write an updated version which included the final years of her life, but it's taken me awhile to fully absorb the lessons I've learned from her, and from my mum, about the fine art of living and dying.
One thing is clear to me: how we eat during the main part of our life has a big impact on how we spend the final years of our life. Dying is inevitable; a decrepit old age is not.
But the more important lesson came as a surprise to me, and it comes from Miss Lilly herself: nothing is more important to a dog's health and well-being than a sense of being loved. Good diet matters; feeling loved and cherished matters more. So, worry less and play more. So says Miss Lilly.
I wrote the first edition of Feeding Miss Lilly while she was still alive, so it was written in the present tense. In this revised edition I write about her in the past tense as I incorporate some things I've since learned about feeding and caring for the dogs we love. I hope you enjoy reading this book as much as I've enjoyed living it and writing about it. Five years on, I still miss that stripey dog, but it's an absolute joy to write about her and our life together!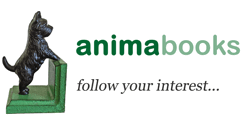 Feeding Miss Lilly
on feeding dogs a great, nature-inspired diet
revised edition
Dr Christine King
PRINT EDITION
USD: 23.96 | AUD: $32.92
eBOOK EDITION
USD: $12.10 | AUD: $17.10